As a kid I have always loved to doodle around; I remember carrying those A4-size sheets and crayons to my school only to draw in the free time. Over a decade later, I still wish to do that, but less time at my disposal always restricts me. However, if you still have your creative side that wishes to get out of the hideout and drawing has always been a part of you, or you are looking for something for your child, you are in the right place.
While gone are the days when carrying physical papers and colors was a thing, drawing is still a concept, which has the online drawing as a sub-branch.
Hence, this list will focus on the best drawing apps in 2019 you should know of and you should continue reading if you are intrigued by now:
11 Best Drawing Apps — For Android and iOS Users
1. Paint By Number
Paint By Number is a paint app that allows you to fill colors into an already-drawn picture, much like the coloring books we all have had. The app has a simple UI and provides you with various options you can choose to start coloring and creating your art drawing.
The app has various options to choose from under the Library section and even the Daily section that offers drawings to color every day. You just have to select the one you want to paint and start filling in the colors that are pre-decided.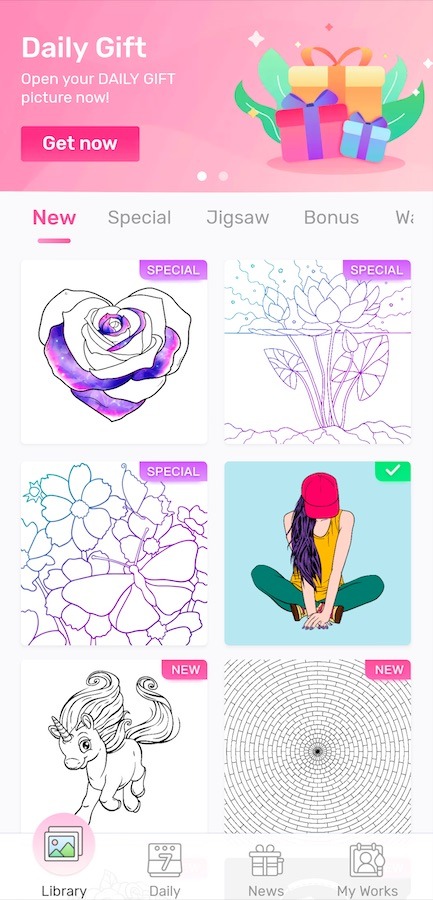 One good thing about this drawing app is that it tells you if a particular color isn't fully filled by and waits until you completely fill it. However, the small sections tend to get difficult to color at times.
The app provides you with points upon completing a drawing, that act as a motivation to do more. Additionally, you can download or share your drawings once you are done.
2. SketchBook
SketchBook is the drawing app that has all the things you need to draw online. The app has a plain draw pad and you can draw whatever you like.
Once you open the app, you can either sign in or just 'start drawing' without it. The app requires access to your smartphone's media as it tends to store your drawing tools over there. Speaking of which, the drawing app has a plethora of online drawing tools, and I went crazy seeing them.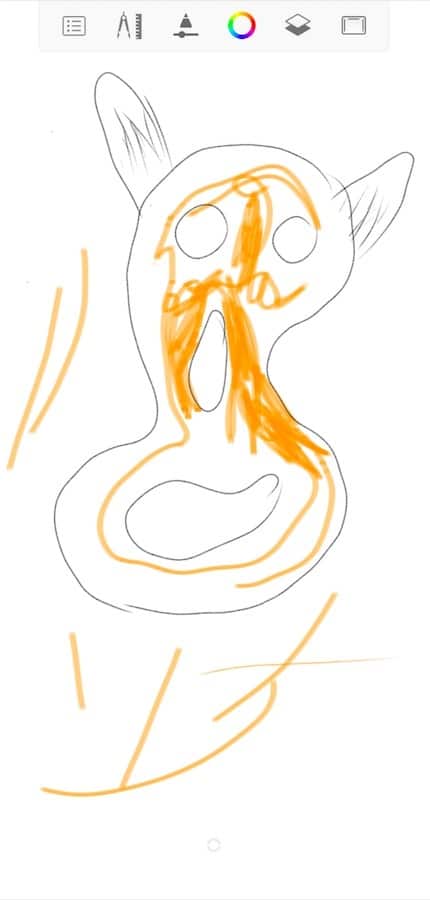 You just have to select the ones that are apt for you, start drawing, fill in colors, and you are good to go. Furthermore, you can add various edits to drawing, symmetry, texts, and more.
The main page has the primary six options at the top part and more options at the bottom to add further edits to the sketch. Furthermore, you can save and share the drawing when you are done.
3. Medibang Paint
Medibang Paint is another app that lets you draw stuff and features a number of tools that will make you go WOW. The app makes the process of drawing online pretty easy, all thanks to the so many options available in the app.
You just have to select the size of the online drawing pad and start doodling around. While you don't necessarily need to login, it will still help you enable around 90 brush types.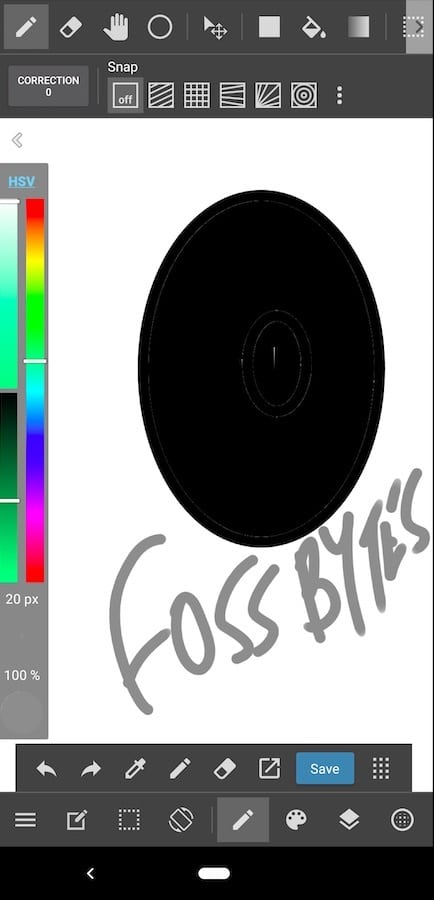 The app has the usual online drawing tool options and several more such as the grid option on the canvas, flip and rotate among others.
Once you have completed the digital drawing, you can save it and even share it. The app offers the tools to 'online doodle' easily and I enjoyed the time I used it. Except, it had ads and that annoyed me.
4. PaperColor
PaperColor is another drawing app that allows you to draw online for free. It has a blank canvas wherein you can use cool designs to draw.
You just have to create a folder for yourself and start creating your art drawings. The app has various easy tools and you have to select them to apply. There are different sorts of brushes, color options, erasers, and a lot more.
The app also has the option to upgrade to unlock some more features and get rid of ads. But, you need to pay for it. The art app has a simple UI and doesn't require a lot of effort to draw. My experience was pretty decent and I didn't face any difficulty in making things on the online sketch pad.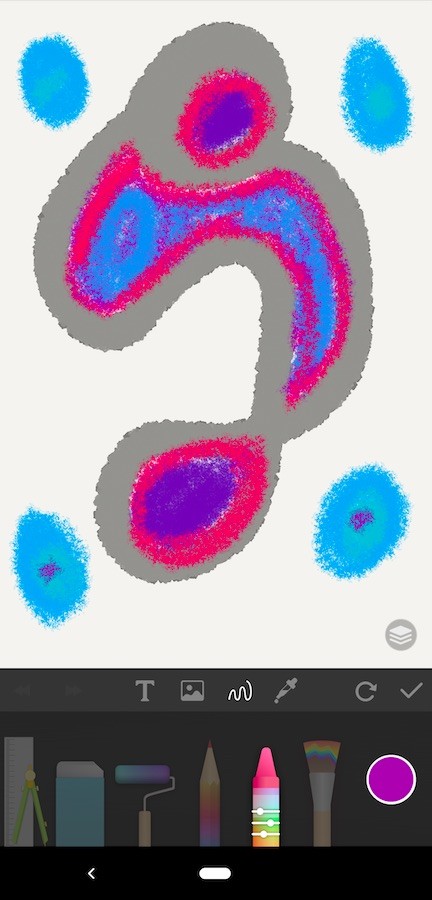 While there are various edit options, the option to save and share still lacks a lot of editing tools, which acts as a drawback.
5. Adobe Photoshop Sketch
Adobe Photoshop Sketch is one of the art apps that is similar to the aforementioned ones. The app allows you to draw and sketch online, with the help of a number of tools available.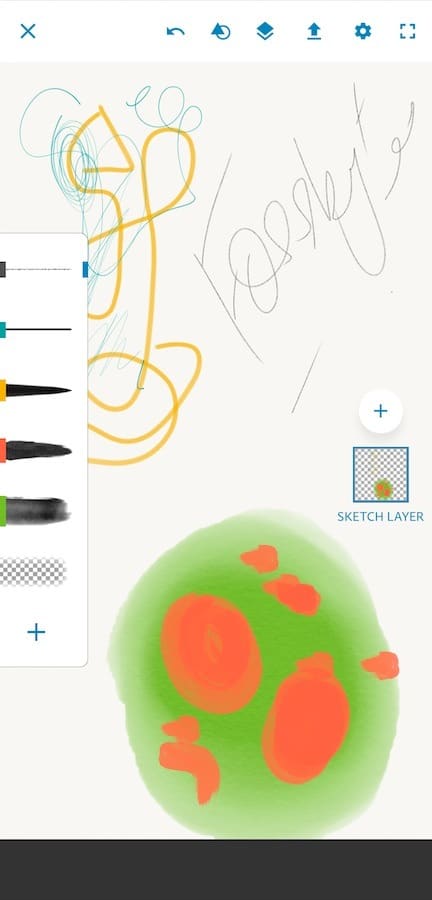 You just have to select whether you want a pencil or a brush and you can draw online with friends or alone. Additionally, you can double-tap the selected tool to either change its color or flow.
Additionally, you can add layers to a blank canvas to make the sketch drawing of your choice. For this, you just have to select the Sketch Layer option present on the right side of the app.
The app is really simple and makes drawing on the phone a cakewalk. The only drawback it has is the lack of features that are otherwise offered in the aforementioned apps.
6. iBis Paint X
As the name suggests, iBis Paint X enables you to create drawings and is also among the free drawing apps. The process is pretty simple; you have to tap on the plus sign for a new canvas and start making stuff from the drawing ideas list you have in your mind.
You get various options in the app to select the colors, brushes, and pens of your choice. You can also choose the intensity of the pen for a better drawing. There are other edit options such as smudge, transform, filter, lasso, and more.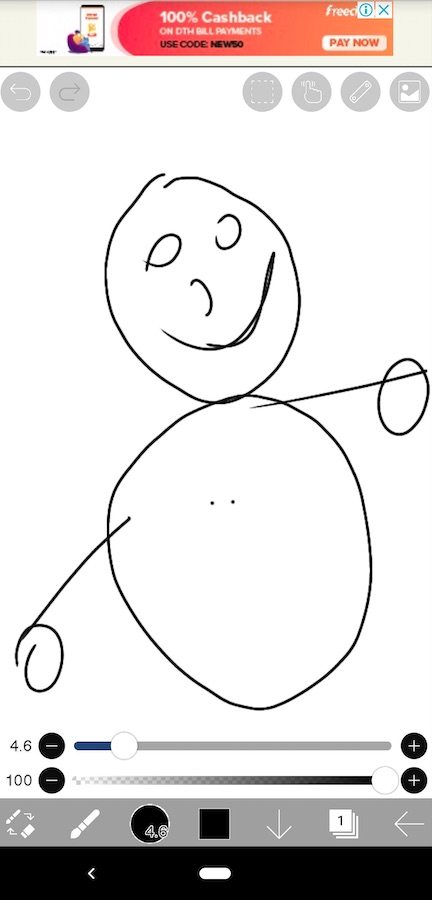 You can add layers, erase the drawing that you don't like, hide the toolbar menu, select the canvas sizes, and save the final drawing. While everything is decent about the drawing app, the frequent ads are a problem.
7. Paint Free
Paint Free is a simple app that allows for freestyle drawing online with great ease. The app follows the same concept of drawing as various other mobile drawing apps out there.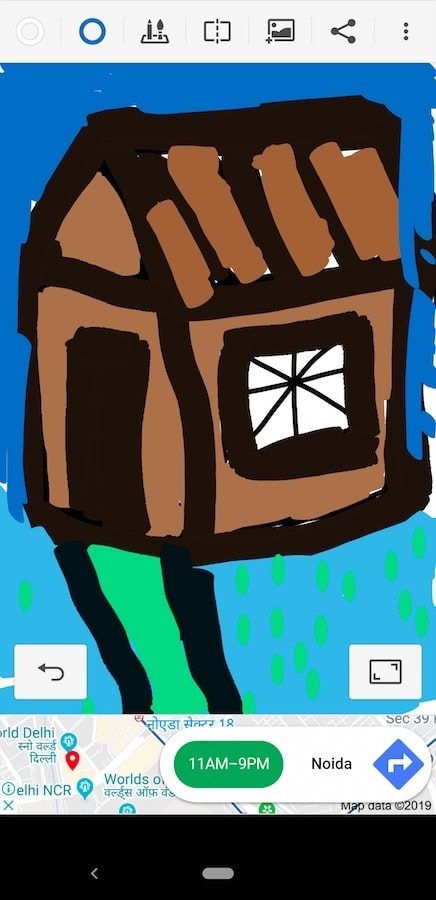 You will get a drawing pad, drawing tools, colors, and a couple of edit options to finally create a drawing. The app is simple and hence can be the best free drawing app you might want to consider for yourself.
During my usage, I was able to use all the tools available; you get to select the various brushes and pencils, increase or decrease their thickness, and fill in colors by selecting from a color palette with loads of options. While you don't get an eraser, you have an option to undo something you have done on the canvas.
8. Easy Drawing
Easy Drawing goes by its name and makes drawing an easy task, even on a smartphone. The painting app provides you various things you can draw and gives you a step-by-step guide as to how you can make that thing on the canvas.
The iOS and Android drawing app proves helpful for teaching kids art and is helpful for those who have forgotten to draw. Following the drawing, you have to color it. The app gives you a tutorial on how to fill colors an image.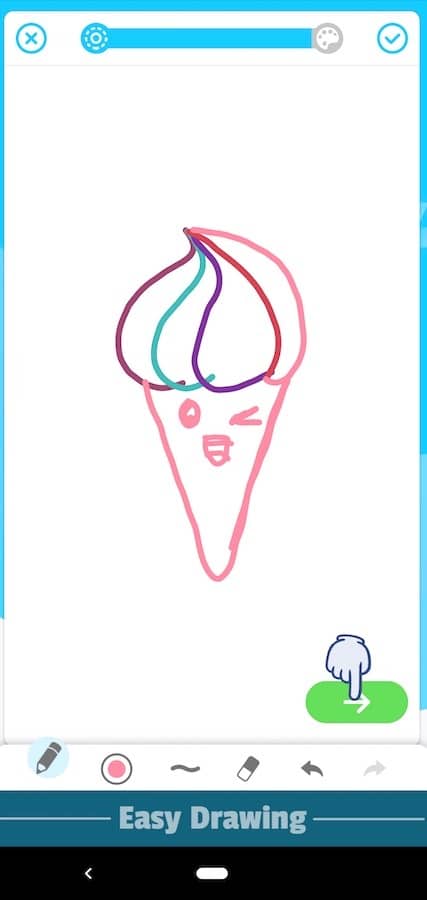 During the process, you can also decide if you want to work on a paper-like canvas or the screen canvas. While the colors are pre-defined, you can still change the color options to add your own thing to the drawing.
9. Whiteboard
Whiteboard drawing app that puts a plain canvas on your screen and wants you to create something that could be as simple as a flower.
While starting, you can log in but even if you don't, you will still be able to use the app. The drill is easy, you draw something on the canvas, choose the tool and color of your choice, and finally save it.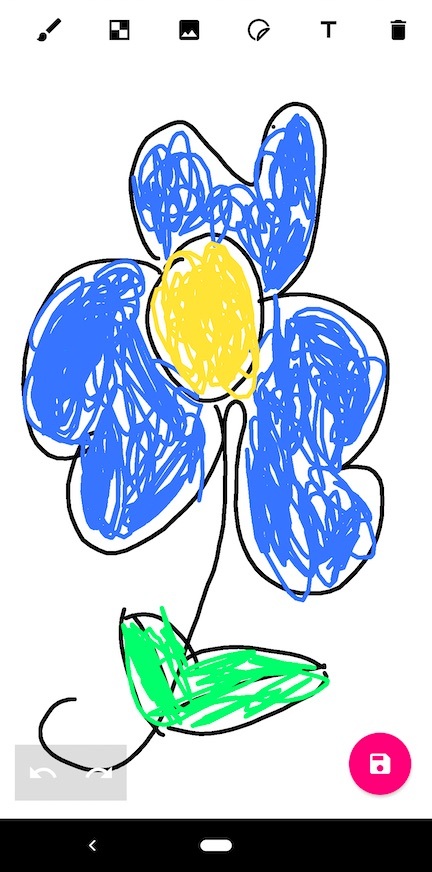 One interesting thing about the app is that you get to share your drawings on the app, thus creating a drawing community wherein people can see and admire each other's work. The app has ads and it's the only bothersome thing about it.
10. Drawing Desk Draw
It is one of the drawing apps for Android as well as iOS that allows you to make drawings for kids, sketches, doodles, or color, depending upon the options you choose.
The app works as both a paint app as well as a drawing app, serving multiple purposes. This is the reason I have included in my best drawing apps list.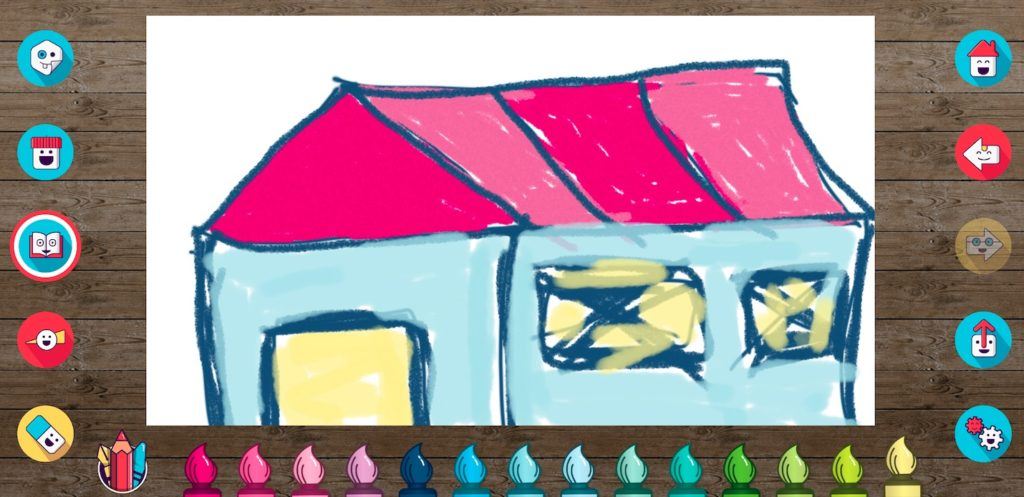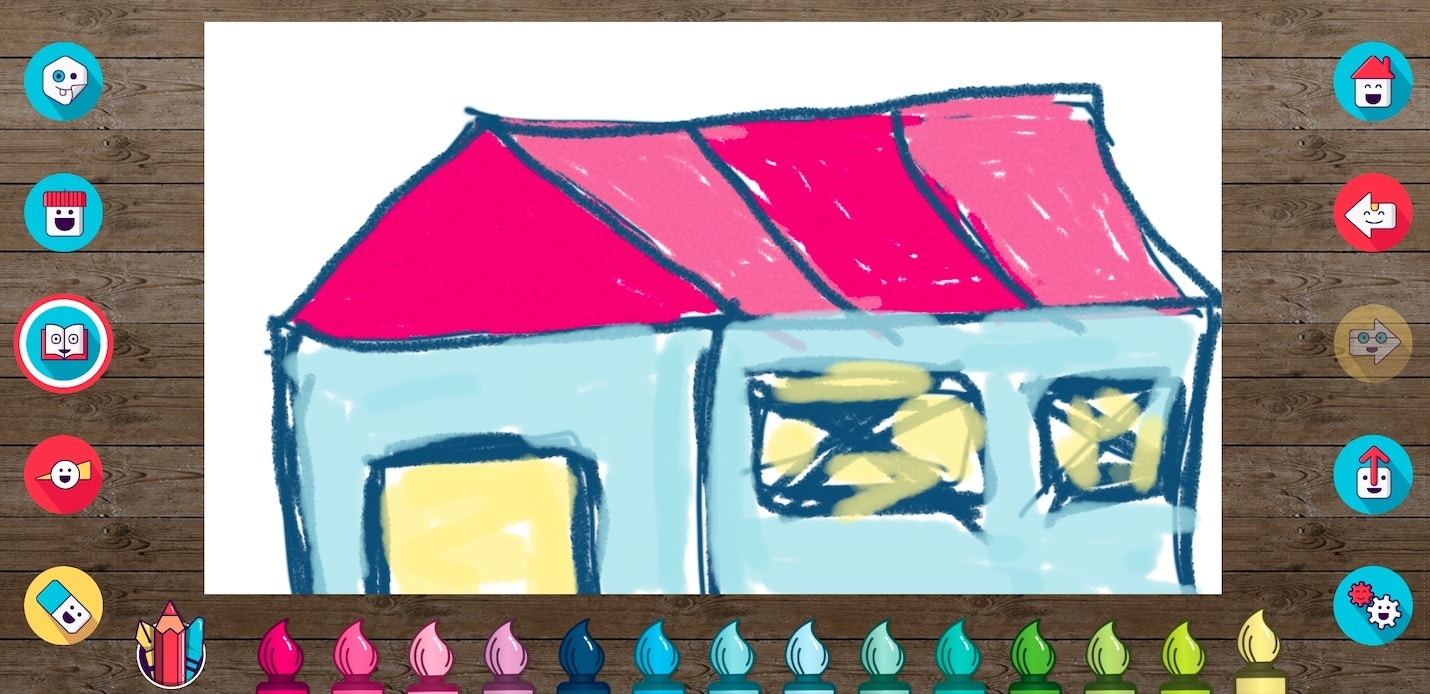 It works in the horizontal orientation and is quite easy to use; you just have to select the required drawing tools and start creating drawings. The app has options to save and share as well.
11. Colorfit
Colorfit is a simple painting app that fulfills the purpose of a traditional coloring book. When you open up the app, it asks you about your month and year of birth so that it provides you with relevant content.
You also get to earn daily points in the form of diamonds and you can buy drawings you wish to color with the same diamonds. However, there are free drawings as well so you don't have to worry about using up all the diamonds you have.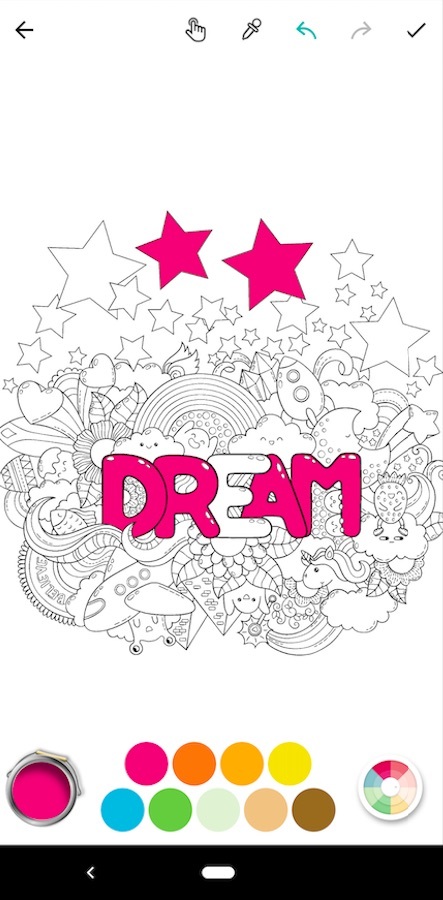 The process of coloring is pretty simple too; you have to select the provided colors, tap on the area you want to paint, and you are done. Additionally, you can zoom in, zoom out, use a color picker, undo an action, and finally save your drawings.
Best Drawing Software and Drawing Websites
Apart from the drawing apps available for Android, and iOS, there are various drawing websites as well. The popular ones are Sketchpad 5.1, Autodraw, Kleki, Quick Draw, and a lot more. So you can check them out if websites are more your thing.
There are drawing software too such as the ones by Adobe and AutoCad to name a few. You can go for them as well for a more professional drawing usage.
Best Drawing Apps For Android and iOS
If you still love the idea of drawing your way around when you need a stressbuster or just for fun, I hope my list of best drawing apps helps you in some way.
Do let us know which app from the aforementioned best drawing app list you like. If you have a better recommendation, you can definitely tell us in the comments section.