Memes are an essential part of our lives and our social media is proof of it. Most of us (including me) tend to show our presence on social media mostly for memes. The motto we follow is "eat, sleep, meme, repeat." I hope you get the idea of how crucial memes are for us.
As I know the importance of memes, I am now up with a list of the best meme generator apps in 2019, for you to know how to make memes on your own and keep up with the meme trends.
How To Make Memes?
In order to make a meme for the social media fun you need, you just have to upload pictures on a meme maker app and just go with the flow, as the steps are pretty easy to follow. To know about the various meme apps I have included in my list, just continue reading.
6 Best Meme Generator Apps For Android and iOS
Meme Generator
Meme Creator
Memasik
Meme Generator: Create Funny Memes
GATM Meme Generator
Video & GIF Memes
1. Meme Generator
Meme Generator is a meme editor that totally goes by its name. The app lets you make your meme by selecting the various meme options available. When you open up the app, it lists down all the meme template options, which is divided into four sections: All, New, Popular, and Favorite. There are a plethora of options available (even the trending ones) so choosing an apt one won't be a problem for you.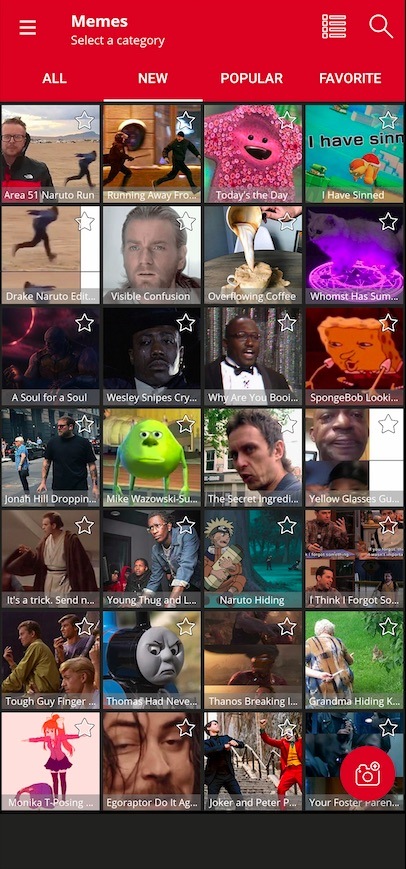 Once you select your desired template, you can create a meme out of it by applying the meme text, border filters, stickers, and various filters available on the app. Following this, you can save the meme and create as many meme photos as you want.
The app is really simple to use and the several options available make it an apt choice for my list of best meme generator apps. Additionally, you can make your own meme by selecting your own pictures from your gallery and customizing it accordingly and go for the three-dotted menu for more app options. One downside is the ads that are present on the app, which can appear annoying.
2. Meme Creator
Meme Creator is another app that totally has the name of the task it performs — to create meme. The app once opened, appears more or less like any meme generator app with all the meme template options residing on the main app page. 
The app has various categories to choose from such as Animals, Celebrities, Advices, Cartoons, Rage, and Others. Selecting the type of your choice will display all the meme options according to the genre and you can choose the desired to make meme(s).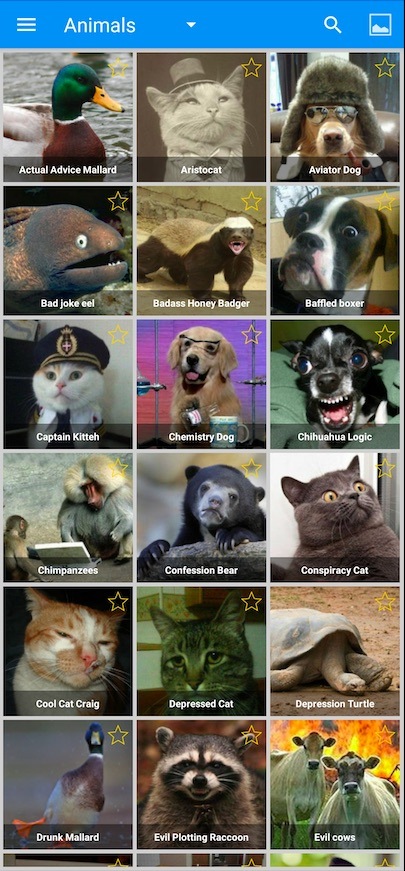 Following this, you have to add the texts of your choice, select the font and border size and can finally save it to create the meme picture. But, how to make a meme with your own picture? You just have to tap on the photo icon on the top right corner, select any of your pictures and start adding texts and more to it.
While the meme creator app has good options available, it is more of a meme caption maker than an overall picture as fewer filters are available. If you are not looking for many image filters, the app is ideal for you.
Pros: Easy to use apps
Cons: Fewer filter options
Availability: Android
3. Memasik
Another online meme maker is Memasik, which has a slightly different interface as compared to other meme makers out there. There is a plain canvas in the first half of the app page and the meme options in the second half.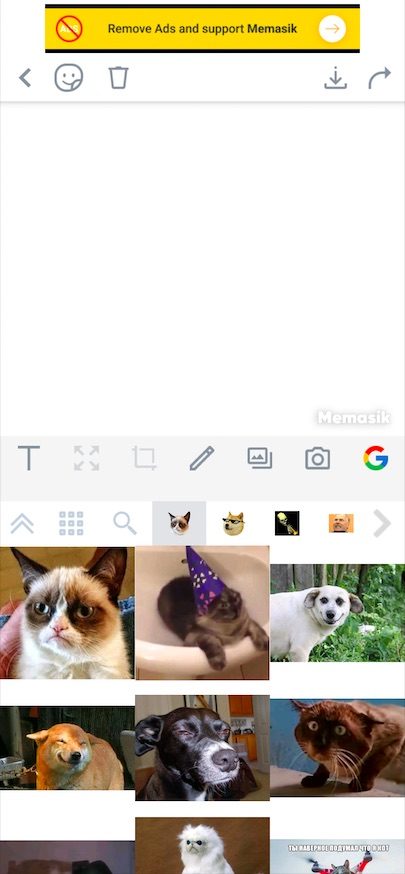 You can either choose media from your gallery to make a meme with your own personalizations or choose from the various templates available. Once you select the one you like, you can edit it by adding the text of your choice, filters, stickers, and more. Upon selecting the necessary additions, you have to modern meme maker will create you one.
The app has five main sections: the Wall of Memes to follow other meme creators, the section to sign up on the app, the section to create some, the section to purchase coins, and the Notifications section. Memasik has the ability to follow meme makers, which the reason it has found a place in my best meme generator apps list.
4. Meme Generator: Create Funny Memes
This is another meme builder app that shares a generic name and app interface as many other meme maker apps on the app stores.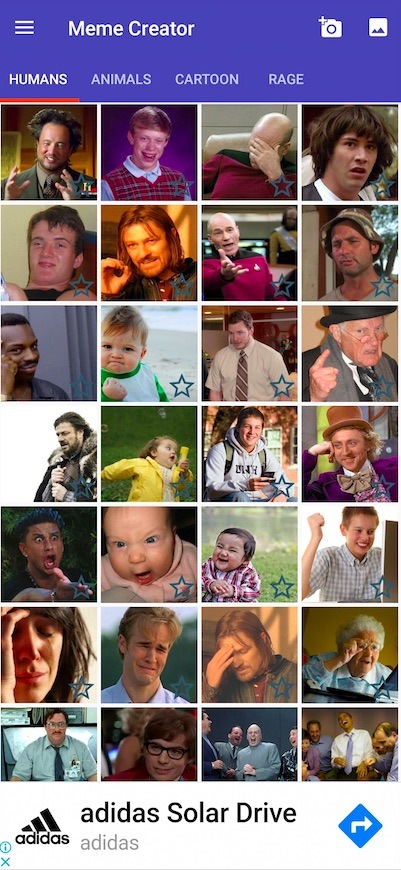 The app shows us various meme templates of popular memes and is divided into various categories such as Humans, Animals, Cartoon, and Rage. You have to select any of the meme photos, add captions, and select the font size and color. After this you are meme will be created once you save it.
There is also a hamburger menu, much like various apps, to access other app settings and options. Additionally, you can make your own meme with your own gallery and even share it on social media.
Pros: Plethora of meme templates
Cons: Monotonous app design
Availability: Android
5. GATM Meme Generator
GATM Meme Generator is another free meme maker app, which aims to create the best memes you've ever wanted. To generate meme, you just have to look for the meme template options available on the app. The templates can be found in two sections: Browse and Create. The Personal section lets you make memes of your own by selecting media from your gallery.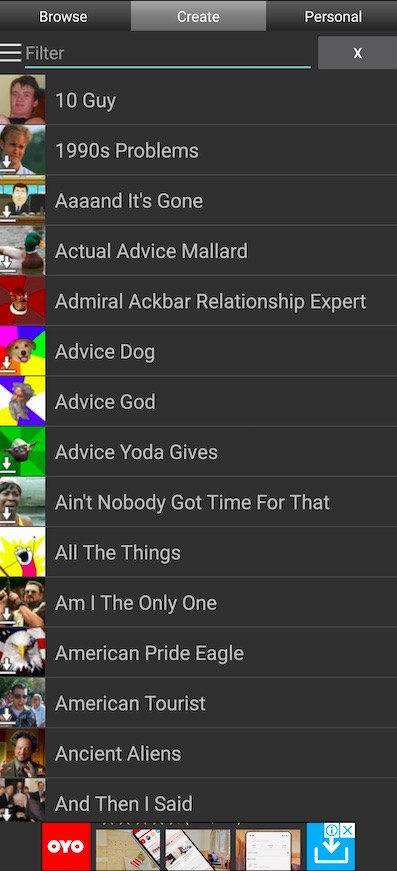 Now that you have selected the memes, you have to add the desired caption, choose from the font settings available and save the created meme. The online meme generator lets you like and share the particular meme you have made. While the app has trending meme templates, it still has a scarcity of many popular ones.
Additionally, the presence of ads and the inability to go back to the main app page with ease in a problem.
Pros: Variety of meme options
Cons: Doesn't take you back to the main page easily
Availability: Android
6. Videos & GIF Memes
Videos and GIF Memes is a video meme maker that helps to create Android and iPhone meme videos. Apart from the memes, you get to make GIFs, so it acts as a single platform for both the important elements of social media.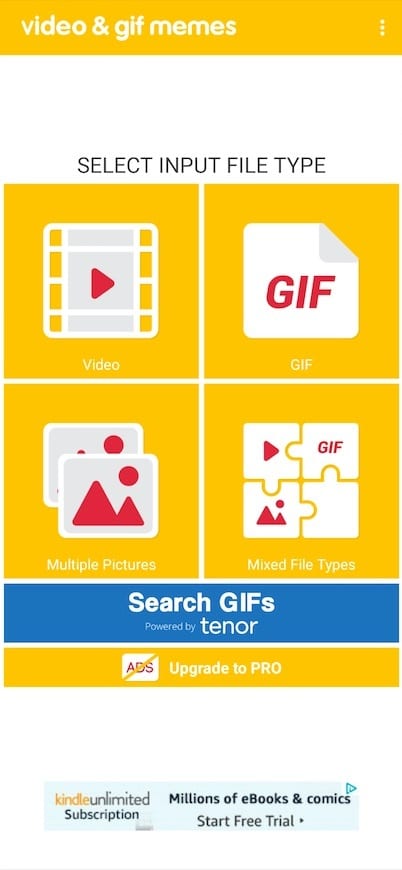 Another interesting thing about the meme app is that it lets you create your own memes with all the customizations you want to add.
You just have to select the Video option, choose the desired video from your gallery, add edits to it such as the selection of the play duration and addition of filters, and your good to go. After all the video settings you have added to the video, you can save it and even share it over email, Bluetooth and more.
Pros: Ability to create GIFs as well
Cons: Lacks trending meme template
Availability: Android
Other Meme Builder Sources
Apart from the aforementioned meme maker apps, you can head to various meme generator websites such as Imgflip.com, Make a meme, Kapwing, and more to create a meme over a website, if apps are something you don't really like much.
Free Meme Generator For Your Favorite Memes
Given that memes have become an inevitable element of our lives, I hope my best meme app list helps you make memes easily and share them with your friends as much as you can.
As a reminder, there are various free meme generator apps (and even paid) on the app stores and I went for the ones with good ratings and install numbers. If you have one that I can add to my list, you can comment down below for the same.