Regular updates of any operating system is an good maintenance option. It not only keeps computer from malware attacks, but also gives new features for doing our work quickly. Users should installed regular updates because they hold critical patches and security loopholes. But many times these updates slow down the system performance. And there are many reasons that user want to disable windows updates & defender. According to ethical hacking researcher of international institute of cyber security many users are finding problems in recent Windows 10 updates. We will show that how you can disable windows updates & defender in automatic and manual way in 2 minutes.
For testing we will using Windows 10 with build version 1809.
Automatic Way to disable Windows Defender :-
In this way you simply have to install an small tool for enabling or disabling the Windows.
Download tool from : http://www.site2unblock.com/download/win-updates-disabler-setup.exe
After downloading the tool. Install the win-update-disable-setup.exe. Launch the tool.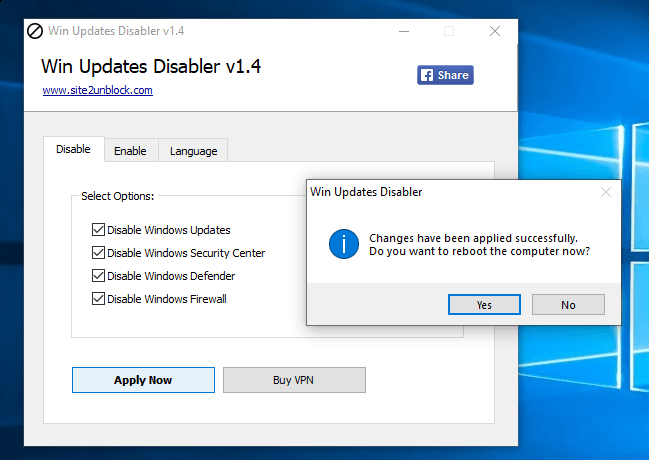 For disabling, click on disable. Check the Disable options. It will ask for rebooting the Windows. After rebooting you will see that Windows Defender & Update services have been disabled.
Windows Defender Real time protection is off.
And for enabling, click on enable. Check all the enable options. It will again ask for rebooting the computer. And all the services will start.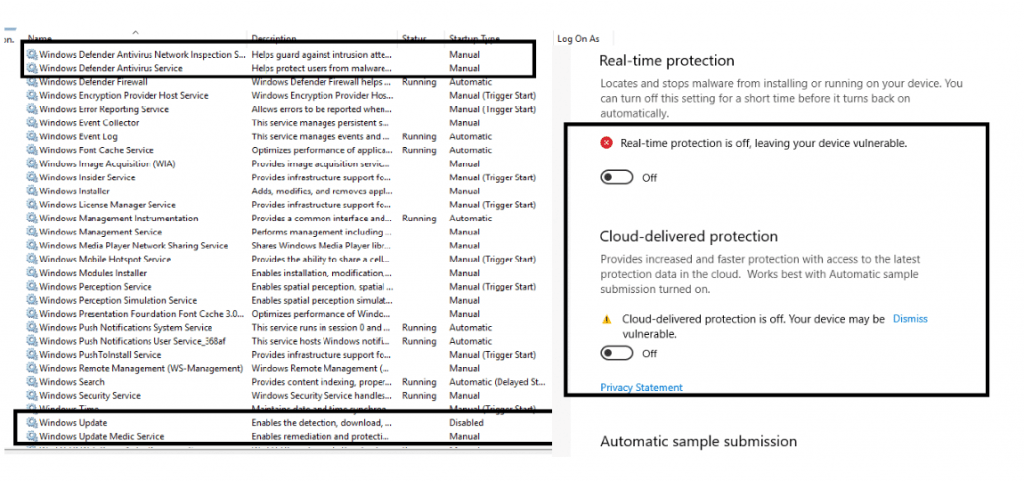 Above screenshot shows that Windows defender & updates are disabled.
If you enable the services, services will start running.
Manual Way to disable Windows Defender :-
For disabling, Windows defender. You have to run small script.
REG ADD "HKLMSoftwarePoliciesMicrosoftWindows Defender" /v DisableAntiSpyware /t REG_DWORD /d 1 /f
Write above script in notepad save the file in bat format and then run the script from CMD with admin privilege.
This script will add DWORD value to HKLMSoftwarePoliciesMicrosoftWindows Defender.
After running script from CMD. it will print message.

Above screenshot that DWORD has been added successfully & defender has disabled.
You can add this script to the start up path of windows registry to disable defender from starting after reboot.