We have already heard of several reports where hackers manage to Android OS on Nintendo, or Windows 10 IoT on a calculator or Windows 10 on OnePlus phones.
This time we have an open-source project 'Bliss OS' that lets you run Android OS your personal computer. Last year too Bliss OS released a version that could run Android Pie on your computer. Now the latest version, Bliss OS 12 lets you run Android 10 on any Linux or Windows 10 PC.
Bliss OS 12
Bliss OS is basically an Android-based OS that can run on any Linux, Windows PC or Macs, and Chromebooks. Just in case your Android smartphone did not receive an Android 10 update this year, you can download and install Bliss OS 12 to find out how what's the latest version of Android like.
If case you are wondering whether your PC can run Bliss OS or not, just know that Bliss OS can run on any device that already runs Windows, Linux, or Chrome OS.
Visually, the Bliss OS 12 features a desktop-style launcher (based on AOSP Launcher 3) with a taskbar. It can run apps in windows, touchscreen, and non-touch devices, and also uses a start menu-type app drawer, dubbed the Bliss button.
How To Run
Android 10 On Any Linux Or Windows 10 PC?
Please note that BlissOS 12 is currently in a testing phase, so it's quite possible that it might have quite a few bugs. Hence I'd recommend enthusiasts to not use this OS as your daily driver. Nevertheless, here are the steps needed to download and install the alpha build of Bliss OS 12:
Scroll to the section which says Bliss OS 12 Testing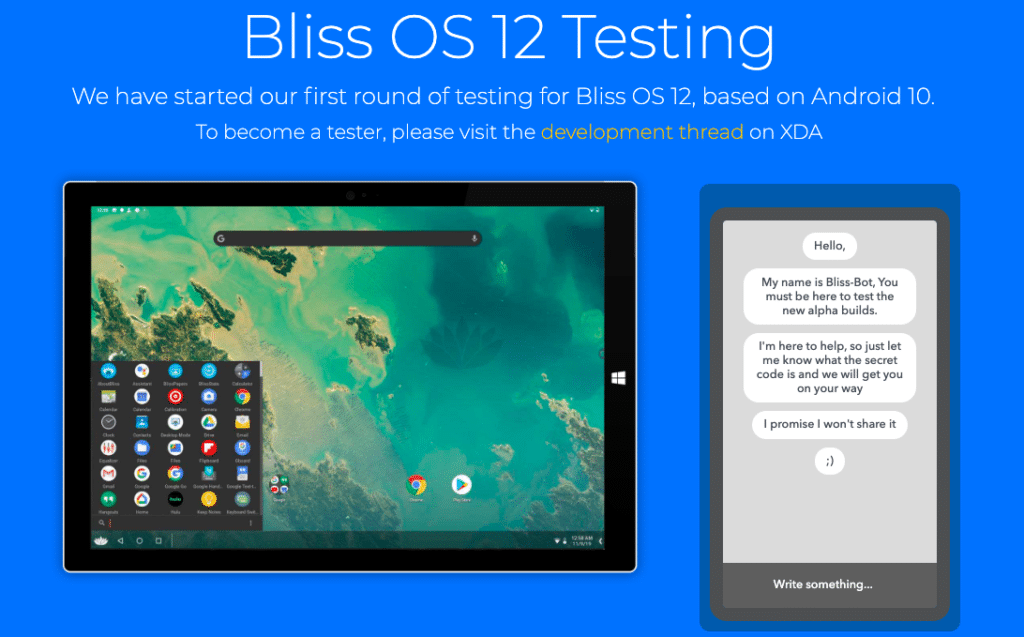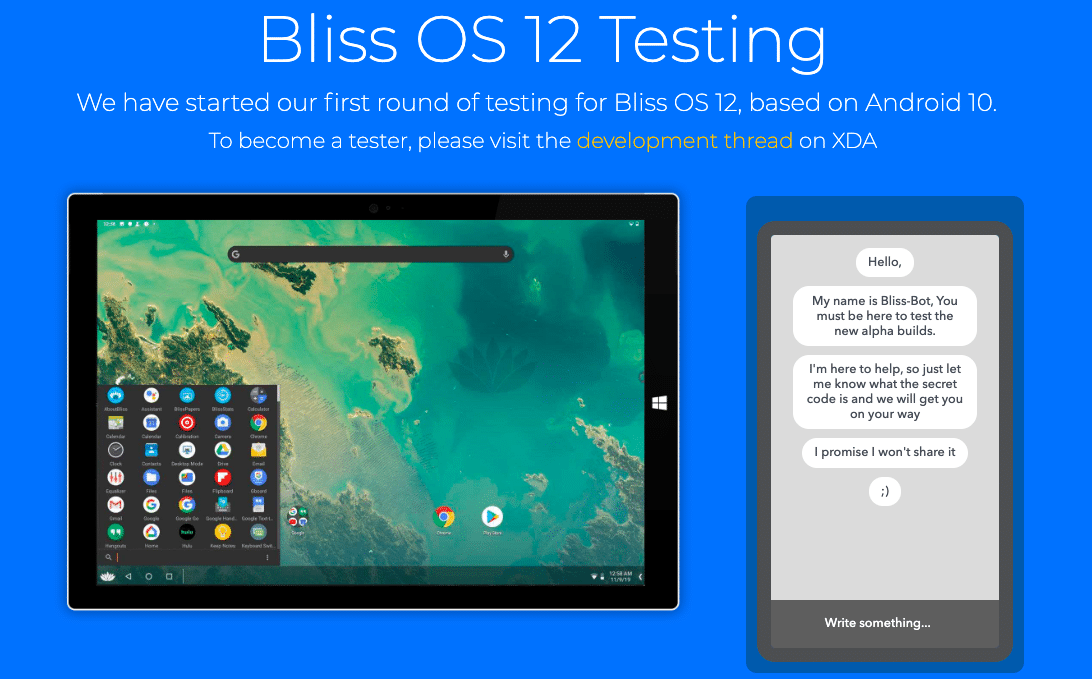 Here type the secret code "stayblissful" in the chat interface which says 'write something'
The chat interface would then convert to this: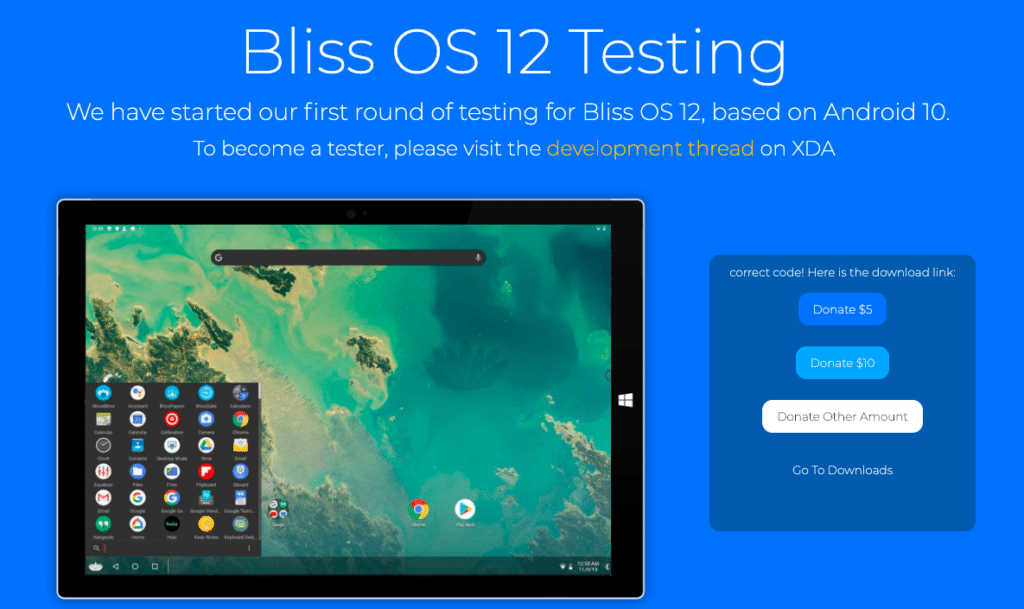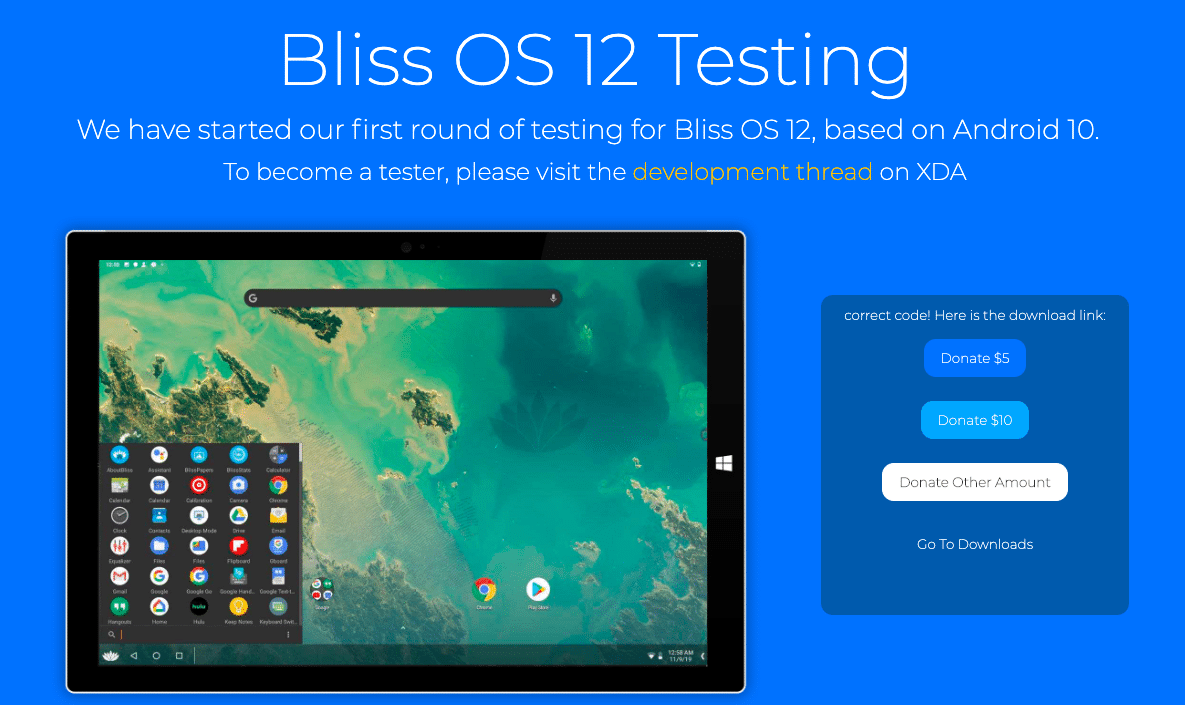 Click on Go To Downloads option
Next you'll land on the page where you can download the ISO file of the Bliss OS 12.
You'll then be directed to a website from where you'll be able to download the ISO file of the Bliss OS 12
For further help, you can refer to the documentation guide.
Things you should know before installing Bliss OS 12
The developers of Bliss OS 12 recommend installing this alpha build on a pre-existing NTFS partition or Windows partition. They also suggest users should avoid formatting from their USB installer.
In case you are trying to install Android 10 just to play Android games or use Android apps on your PC, I'd suggest using Android emulators as they are both easier to install and use.